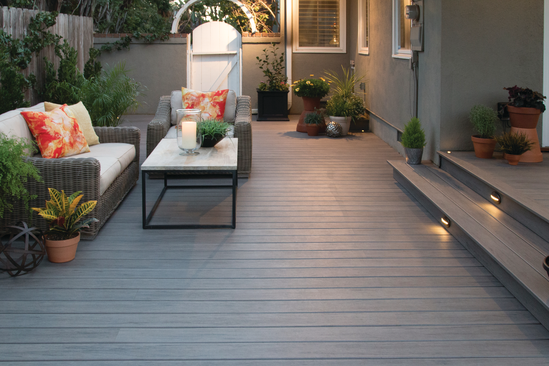 In the not-so-distant past, there were only a few options of materials when it came to decking, and most of them were simply different varieties of wood. Recently, there has been an explosion of different decking products, including composite lumber, plastic decking and hardwood imports.
No matter what stage you are in the construction of your deck, it helps to know your options. There are 5 basic types, each with their own price range, look and upkeep. Here we take an in-depth look at each:
PT lumber is still the number 1 decking option sold today. Approximately 75% of all new decks are made out of PT lumber.
It's not surprising that PT lumber is so popular: its affordable, easily available everywhere, and easy to cut. Most PT lumber is chemically treated to resist rot, fungus and insects. The chemicals that were used in the past (pre 2003) were suspected carcinogens, but today PT lumber is treated with much safer, less toxic chemicals.
There is a downside to PT lumber. It is not very dimensionally stable, so it can easily crack, split or warp. Routine maintenance is required to prolong the life of the deck.
For many people, redwood or red cedar are the clear choices for decking. Both of these woods have rich color and natural beauty, which makes them prized. They don't have any chemicals or preservatives, because both varieties have natural tannins and oils that make them resistant to rot and insects.
The level of resistance to weather and bugs is related directly to the amount of heartwood in the boards. Heartwoods grows closer to the center of the tree, and is harder and resistant to decay. We suggest using B-grade redwood, which contains mostly heartwood, or construction heart redwood.
According to the Western Red Cedar Lumber Association, the four best grades of cedar to use are: Architect clear, custom clear, architect knotty, and custom knotty. Both redwood and cedar need an annual power washing and a stain to keep the color and make them last.
There are many tropical hardwoods that are used for decking. Massaranduba, cumaru, red tauari, tigerwood, ipe and Philippine mahogany are just a few. These woods are hard, durable and naturally resistant to insects and rot. In fact, they are so hard that they are very difficult to drill and cut.
These hardwoods are comparatively expensive, but often they are similar in price to redwood and cedar.
Most tropical hardwoods don't accept stains very well because they are so dense. It is recommended that you allow wood to weather for a few months before applying a stain so that the surface is more absorbent. If they are not stained, they will fade to a silvery color, similar to redwood and cedar.
Also, when you are buying wood, (particularly tropical wood), check to see if the wood was certified by the Forest Stewardship Council. This organization marks the lumber that has been harvested sustainably and legally.
Currently composites and plastic lumber are the fastest growing decking material sold.
Composites, such as Trex, TimberTech, CorrectDeck, and Veranda, are made mostly of wood fibers and recycled plastic. As a resul, the boards are very weather- and stain-resistant that won't splinter, warp, rot or split.
Plastic lumber, like Azek Deck, ForeverDeck and Leisure Decking, is made from 100 percent plastic. It does not contain any wood fibers. Plastic lumber is also highly resistant to staining and decay, as well as cracks and splinters.
Composite decking does have a lot of advantages that wood does not. They are very low-maintenance and never need to be refinished, sanded or stained. However, beware of mold that can grow in shaded or damp areas of the deck.
Aluminum decking, like LockDry, Versadeck, and AridDeck, will not rot, rust, warp, splinter, crack or check, and it's weather-, mold- and slip-resistant. It has a powder-coated finish lasts for a very long time and will never peel.
It can't catch fire, resistant to wood boring bugs, and its recyclable! It is three-four times lighter than wood or composite lumber, and two-three times as strong. It also stays cooler in the sun because of the metals heat-dissipation properties. All of this is wonderful, except it is the most expensive out of all five of these decking options.
Mozzone Lumber is offering a Wolf Decking promotion of $1.00 rebate per board to any new customer who purchases Wolf Decking between now and October 31st.
You know what they say, the early bird gets the worm!