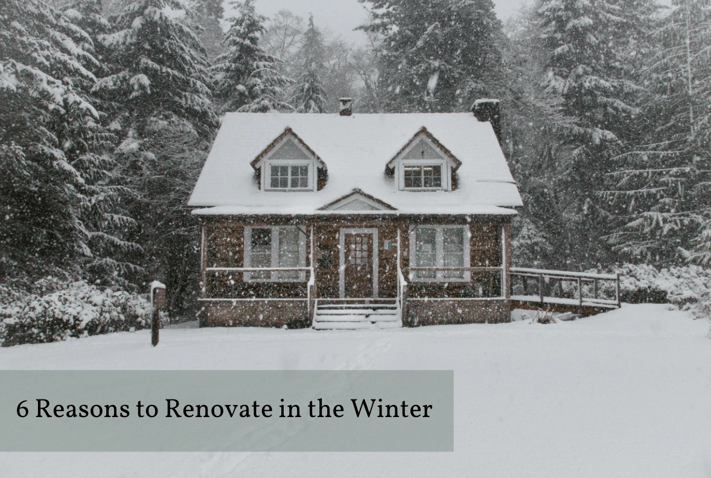 Kitchen and bathroom remodeling projects are a great way to give your home a new lease on life — not to mention improve your overall property value. To minimize both the costs and the disruption, however, you will need to time your remodel correctly. Many homeowners naturally assume that the warm months of summer make the best time.

Unfortunately, this train of thought does not always hold true. In fact, many home experts now recommend scheduling kitchen and bath remodels for the winter months instead. If the logic behind that strategy seems unusual to you, keep reading. This article lays out six key reasons why winter often makes the best time for a kitchen or bathroom remodel.
Contractor Availability
There's a good reason why the spring and summer months are frequently referred to as remodeling season: contractors usually have a lot more work on their plates at that time. Competition also tends to be quite a bit fiercer. As a result, you may find it difficult to find a contractor willing to take on your project.
Even if you do, there's no guarantee that they'll be able to give you the time and attention necessary to execute your vision at a high level. With multiple projects to manage, less experienced contractors may also struggle to execute your remodel within the estimated timespan. Alternately, they may end up cutting corners in order to finish up on schedule.
Winter remodels offer a huge advantage in that you will face far less competition. Not only will this make it easier to find a reliable contractor, but it also ensures that they will have the time to sit down and work out a thorough design plan with you. Your contractor will also have an easier time scheduling the necessary work crew to carry out the work in a timely manner.
Competitive Prices
The decreased amount of competition in winter also often benefits homeowners when it comes to project costs. Contractors who want to keep their work crews busy often decrease prices as business slows. Even a contractor doesn't make such price cuts clear at the outset, you will stand a far better chance of negotiating a discount once their bid is in.
Winter often brings discounts when it comes to the price of materials as well. The law of supply and demand predicts that building materials will grow more expensive as remodeling season hits its stride in string. Those who act early and schedule wintertime projects often find that lumber and other critical materials cost less than expected.
The same holds true for things like appliances, plumbing fixtures, cabinets, and even paint. Many manufacturers offer steep discounts during the holiday season. Others may feature attractive mark-downs in order to reduce their inventory and make way for newer models being released in conjunction with the spring building season.
Material Availability
Supply and demand trends don't just affect the price of building materials — they also affect their availability. Even the best building supply retailers frequently run out of commonly used materials during busy spring and summer months. As a result, remodel projects often stall out while contractors wait for the inventory needed to continue.
Inventory levels tend to be far more stable — and hence, far more predictable — during the winter months. That means fewer unplanned interruptions in your project's workflow.
Travel Timing
The winter is an especially great time to schedule remodeling projects if you and your family plan to be away for any significant amount of time. Being without a bathroom or kitchen presents little inconvenience for those with holiday travel plans. By contrast, summertime projects can be far more disruptive — especially for families with children on summer vacation.
Scheduling a remodel during your holiday travel also often results in shorter turnaround times, since your contractor will be able to access your house around the clock. Just as importantly, they won't have to worry about working around your daily schedule.
Quicker Approval
Most local governments have clear standards that contractors must follow when undertaking construction projects. These standards govern everything from worksite safety, to construction regulations, to building materials and specifications. You or your contractor will likely need to apply for work permits if your remodel project involves any of the following:
Structural alterations
New plumbing or electrical installation
Changes to the footprint of your house
Water heater replacement
Total project cost in excess of a certain amount
During the summer months, when construction projects are at their height, applying for permits can be a somewhat time-consuming process. You may find your remodel getting pushed back as the result of permit processing delays. Likewise, scheduling any necessary inspections can be difficult during the height of remodeling season.
The government agencies responsible for issuing permits and overseeing worksite inspections tend to be far less busy during winter months. As a result, your project will be less likely to get bogged down in bureaucratic delays.
Dust Control Advances
One of the most common concerns homeowners raise about winter remodeling projects has to do with their indoor air quality. This is a logical concern, since your windows will likely remain closed during the entirety of the project. Even relatively minor remodel jobs still manage to generate significant amounts of dust and debris.
Fortunately, contractors today have a variety of sophisticated tools and techniques to minimize any air quality issues. An effective dust control strategy may make use of any or all of the following:
Plastic dust barriers
Power tools equipped with dust extractors
Sticky mats to remove dust from shoes
Air scrubbers
With proper protocols and the right equipment, a remodeling contractor can keep your home's air clean and safe. As a result, there is no need to put off your next kitchen or bathroom remodel until spring.
A kitchen or bathroom remodel is a big investment, but one that's well worth it if you plan out the project correctly. Homeowners considering such improvements should strongly consider scheduling them for the winter. To learn more about other success strategies for your next home remodel, contact the building experts at Mozzone Lumber.