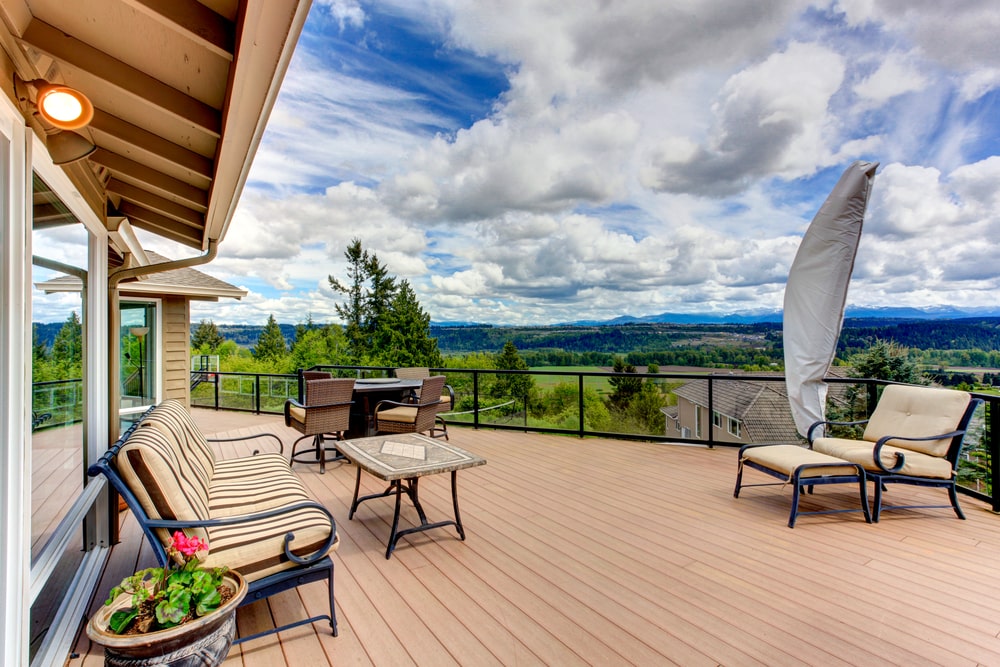 Patio Season has arrived! Now it's time to create your outdoor oasis. When designing your new deck, it's easy to get caught up in the cosmetic details. You begin creating pinterest boards with planters, pergolas, colors, and everything else that will make your new deck look amazing. But in the end, no matter what you put on it, a deck is still a deck-- a long, flat walking surface. So here's why your BIGGEST design decision should be the type of material you will use. Not to mention, the material you use is the largest factor in how much your new deck will cost you.
Building a deck is more than simply slapping on some wood planks and calling it a day. Choosing the right decking material for your needs is a necessity-- are you looking for minimal maintenance, inexpensive price-per-footage, or maybe there's a certain aesthetic you'd like? There are a variety of decking materials out there, each with its own pros and cons. So how do you choose?
Below we break down the details of each of the four main decking materials:
Natural Wood Decking
Hardwoods are the luxury choice of decking material, lasting up to 50 years.
Material: Both hardwoods and softwoods, which can be allowed to weather and grey, (or be sealed or stained for protection). Softwoods including cedar and redwood are prized for their rich colors and natural beauty. Hardwoods including Teak, Mahogany, Ipe, Red Balau, Cumaru, Garapa, Cambara, Massaranduba and Tigerwood.
Maintenance: Annual pressure washing and application of stain and finisher every 3-4 years
Price Point: This luxury choice comes with a luxury price tag, coming in at the most expensive. You'll pay at least three times as much as pressure treated wood for this option, but it's a beautiful investment.
Mozzone Recommends: Iron Woods Ipe or Iron Woods Red Balau
PVC Decking
If the deck is around water— lakes, pools, hot tubs, etc, go with PVC. Since there there are no organic products PVC is sure to withstand a wet environment.
Material: Synthetic
Maintenance: Relatively low
Price Point: The second most expensive option, and in some cases, the most expensive.
Mozzone Recommends: Wolf Tropical Hardwoods Collection or Zuri
Composite Decking
Composite decking is the fastest growing decking board segment today.
Material: Ground-up wood fibers as well as recycled plastics
Maintenance: Long on life span and short on fuss, these man-made boards never splinter, rot, or need staining.
Price Point: Because there are so many offerings, price can vary greatly
Mozzone Recommends: Wolf or Fiberon
Pressure-Treated Decking
Pressure-treated wood is used on about 75% of all decks in the US because of its affordable price point, widespread availability and ease of installation with nails and screws.
Material: Usually soft woods including Spruce Pine and Fir ; chemically treated to resist rot mold and insects
Maintenance: An ongoing chore; since inferior grades are used, warping and cracking are common. With this choice, you're looking at annual pressure washing and application of stain every 2-3 years.
Price Point: The most affordable way to go
Mozzone Recommends: Choosing one of the other three options mentioned above. If you're heart is set on PT wood, we recommend researching the quality of pressure treating process as well as the rating system to choose appropriately.
With such a wide range of options, you're sure to find the deck that fits your needs. Looking to build your next deck? Still not sure of materials, brands, or styles? Check out our Decking Gallery for inspiration!
Ready to get started? Contact our team at Mozzone Lumber. We're happy to help you get decking!