Countertops are the most common kitchen upgrade and often the item renovators are willing to splurge on, according to a
study of 2018 Kitchen Trends
by Houzz. And rightfully so—your choice in countertop material is a direct reflection of both your lifestyle and your taste. To help you along in your renovations, let's discuss the countertop trends that 2018 has brought so far.

Quartz
That same Houzz study noted that granite is on the decline and that 2018 is certainly the year of the quartz countertop. While granite has remained a strong contender over the years, more and more renovators are being drawn to quartz's benefits. The perks of quartz are threefold: it's non-porous, low-maintenance, and comes in a wide variety of colors to fit any homeowner's style.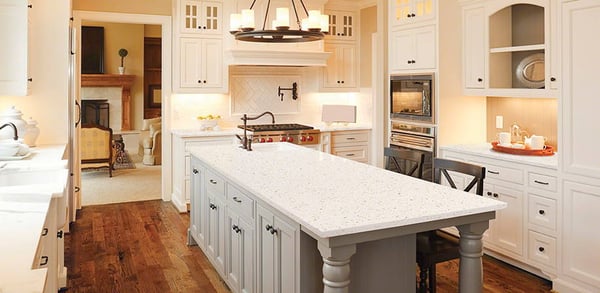 MSI - Iced White Quartz
Seamless Sinks
Modern renovators are looking to declutter their kitchen countertops, and that leads us to the next trend: seamless sinks. Seamless sinks are made from the same material you chose for your countertop. The sink blends with the rest of your countertop, which makes for a minimalistic and sleek look. An added bonus: seamless sinks simplify clean-up, as you won't worry about food and dirt buildup where traditional sinks and countertops meet.
Marble
Nothing says luxury like an elegant marble countertop. This natural stone, though pricey, offers durability along with its unmistakable style.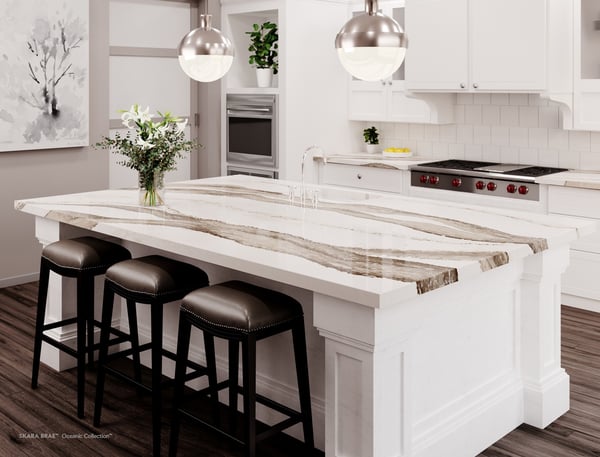 Cambria | Skara Brae Marble Collection
Reclaimed Wood
Wood countertops offer a warm and inviting look, and reclaimed wood is a great option for the sustainable renovator. It'll offer a touch of rustic charm to a modern home or fit perfectly into the country-style kitchen.
---
If you're ready to begin your renovation—or you don't even know where to start—our experts
will work one-on-one with you to create a kitchen and style that's entirely yours.
Our advanced 20-20 computer technology allows you to view the exact layout of your kitchen before any permanent changes are made. Come into our showroom or contact us today get started!

For all things kitchen, check out our Kitchen Renovation 101 Guide
For brands we carry visit our Kitchen Product Page
For inspiration see our Gallery