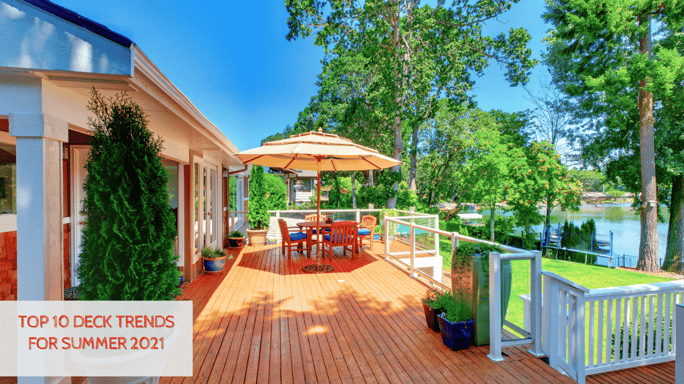 If you're looking forward to the sun-drenched days of summer as much as we are, then you're probably thinking about your deck. We know what it's like to dream of warm deckboards on long summer afternoons. Or the peaceful sound of the summer insects as you lounge on your deck in the summer evening.
If you don't already have a deck, now is the perfect time to prepare your perfect deck design for the 2021 summer. The deck becomes the epicenter of backyard (front and wrap-around) outdoor family time. Maybe you throw a world-class barbecue every summer and this summer deserves the deck to beat all decks. Or maybe you need the best possible place for hammock naps. Today, we're diving into the hottest deck trends for summer of 2021.
1. Outdoor Living Spaces
The single biggest trend of 2021 deck design is outdoor living spaces. People are moving their lifestyles to an indoor-outdoor mode that is more fluid than ever before. Modern construction techniques make it possible to extend a protected and shady living area out onto the deck. Decks are ideal for outdoor living because of the raised floor surface and easy to wash design.
Today, people are building their living rooms out onto the deck or an entire outdoor kitchen for summer cookouts. You can build seating around a fire pit or around a big-screen with equal ability depending on how your build. Alternately, shaded sleeping areas on the breezy deck are also a popular choice for outdoor living space design.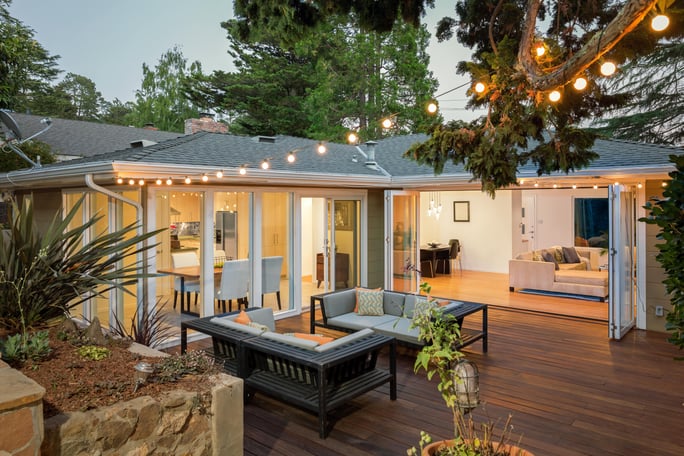 2. Dynamically Planted Deck Greenery
Green living goes beyond solar panels and efficient windows. You can bring the greenery right into your life with beautiful garden deck design. Mount planters onto your deck railings or build tiered rows of planters directly into the deck itself. Use your null-space for green plantings and plant vining flowers to twine around the posts and rails.
If you build a deck cooking area, plant herbs in dynamically mounted pots nearby. If there's a tree in your deck space, wrap it instead of removing it. Get creative with your decking plant-life this year. Oxygen and green shade are your dual rewards.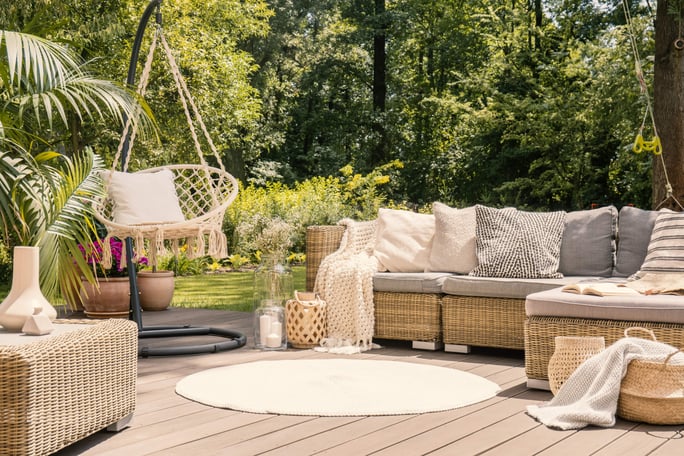 3. Low-Maintenance, More Fun
Low-maintenance decks are the new thing. Decks can require a varying amount of maintenance depending on material, building quality, and local weather. Artificial and composite materials are increasing in popularity to lower the potential for rot and rust in the future. Modern deck design also considers drainage and shedding debris instead of catching debris from the yard. At Mozzone, we carry a large selection of low-maintenance decking options.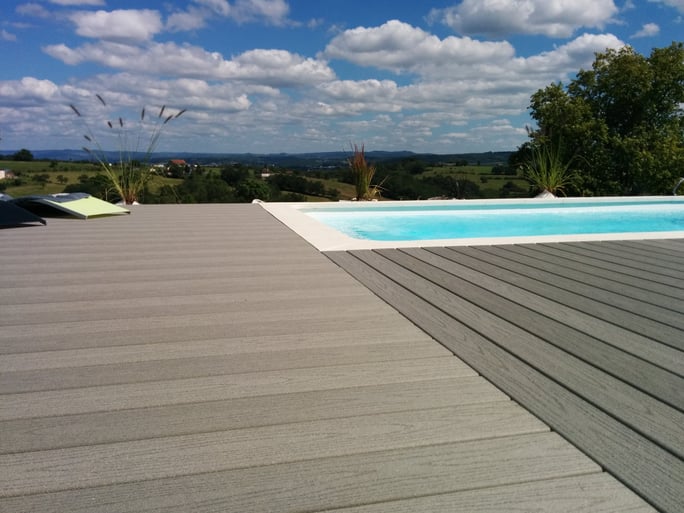 4. Decorative Privacy Walls
As people spend more time outdoors, we also want more privacy during that outdoor personal time. This has increased the demand and creativity in privacy wall design. Simple white lattice is only the beginning. Carved divider walls, outdoor curtains, and living shrubs shaped into green privacy are all hot right now to make your outdoor living space more private.
Deck privacy design can include privacy from neighbors and even individual privacy from space to space.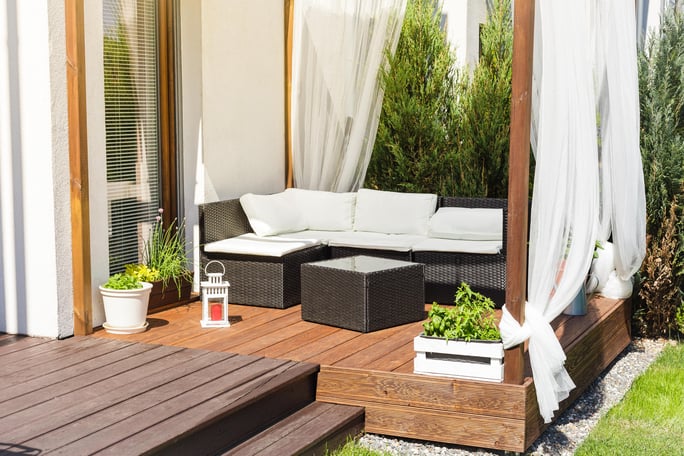 5. Multi-Layer Deck Designs
Decks are going up and also down. Two-story decks are best in show right now, completely reinventing the back-side view of a home with sweeping staircases and multi-level deck spaces. The upper deck becomes sheltered roofing for the lower deck, while the lower deck sprawls into the yard with sunny space for family gatherings.
You can also build a single-story deck with multi-layers, going up or down artistically or with the natural shape of your yard. This gives your deck a dynamic look and feel that is more than just a sea of deckboards from your back door.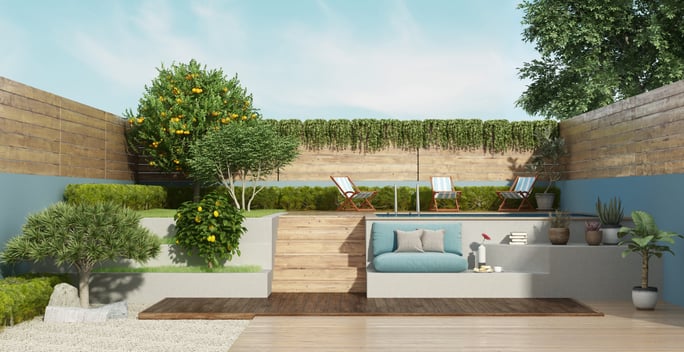 6. Breezy Deck Shade and Pergolas
Deck shade is hotter than the summer sun. Right now, pergolas have experienced the fastest rise in recent popularity. These square-shaped post structures have been used in dozens of design variations to provide shade and style to the deck design. A pergola can be a single square or stretched into a pergola-style walkway or entire-deck cover. For more pergola inspiration, check out our pergola pinterest board.

7. Deck Roofing and Enclosures
Speaking covering your deck, many homeowners are going above-and-beyond by building the indoors out. Build a roof over your deck by extending your current roof structure. You can put up real walls and windows or you can roll down sturdy canvas. Use clear plastic or plexiglass to turn your deck into a sunroom.
The coolest deck enclosure trends are automated, with doors or screens that raise and lower on command.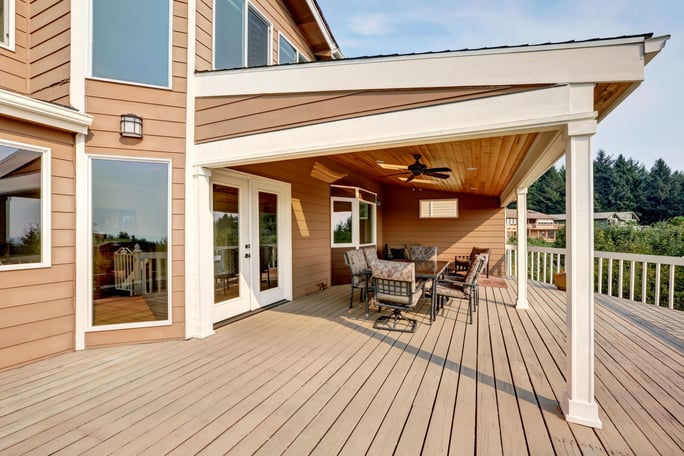 8. Deck Board Pattern Creativity
Do deck boards all go the same direction? Not necessarily! If you want to make a statement with your deck design this summer, try a creative new use of deck boards. Use multiple wood types or stain hues to distinguish different deck boards. You can use vertical columns or beautifully angled chevrons and fishbones to make your deck really stand apart.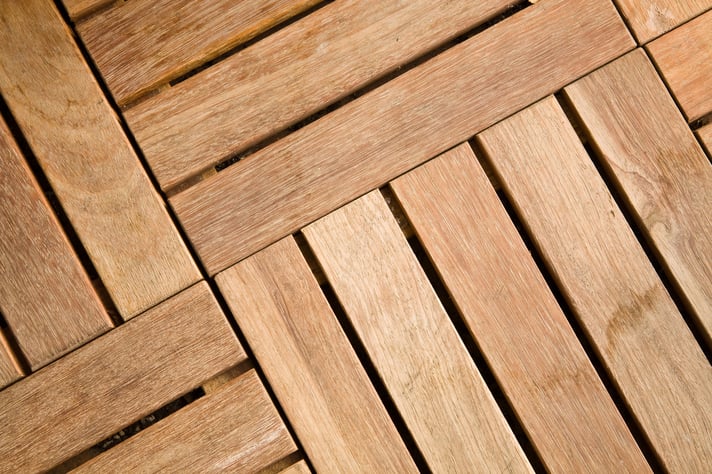 9. Indoor-Outdoor Aperture Design
Extending life out onto the deck isn't just a lifestyle thing, it's also a home renovation matter. Many people are changing out a back door for a wide sliding glass door or even a double French door. The bigger the opening, the better. This allows family life to flow naturally from the living room to the deck and back again. Installing pass-through windows can make your outdoor kitchen even more delightful. Installing a new extra-wide back door can make your new deck so much more accessible during good weather days.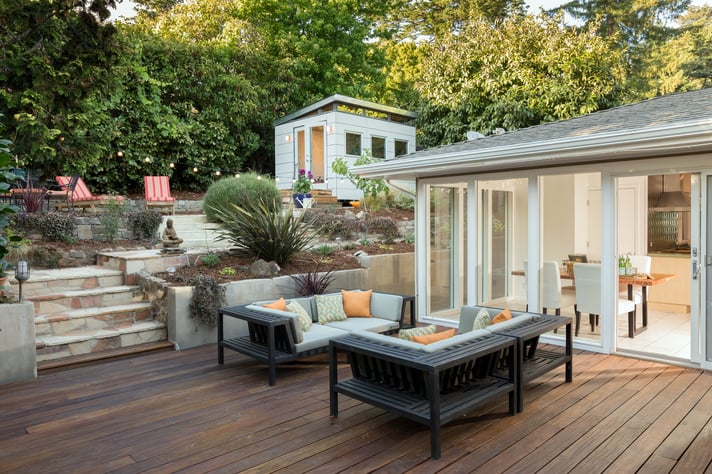 10. Rooftop Decks
Finally and most stylishly are decks built on rooftops. Flat roofs and needlessly peaked roofs can often be modified to support a fantastic upper deck design. Gain the advantage of a balcony and neighborhood overlook in addition to a chill place to enjoy the breeze and the sunshine. Increase the height and density of your railings for upper-level decks and enjoy the unbelievable sights of lounging comfortably on your own rooftop.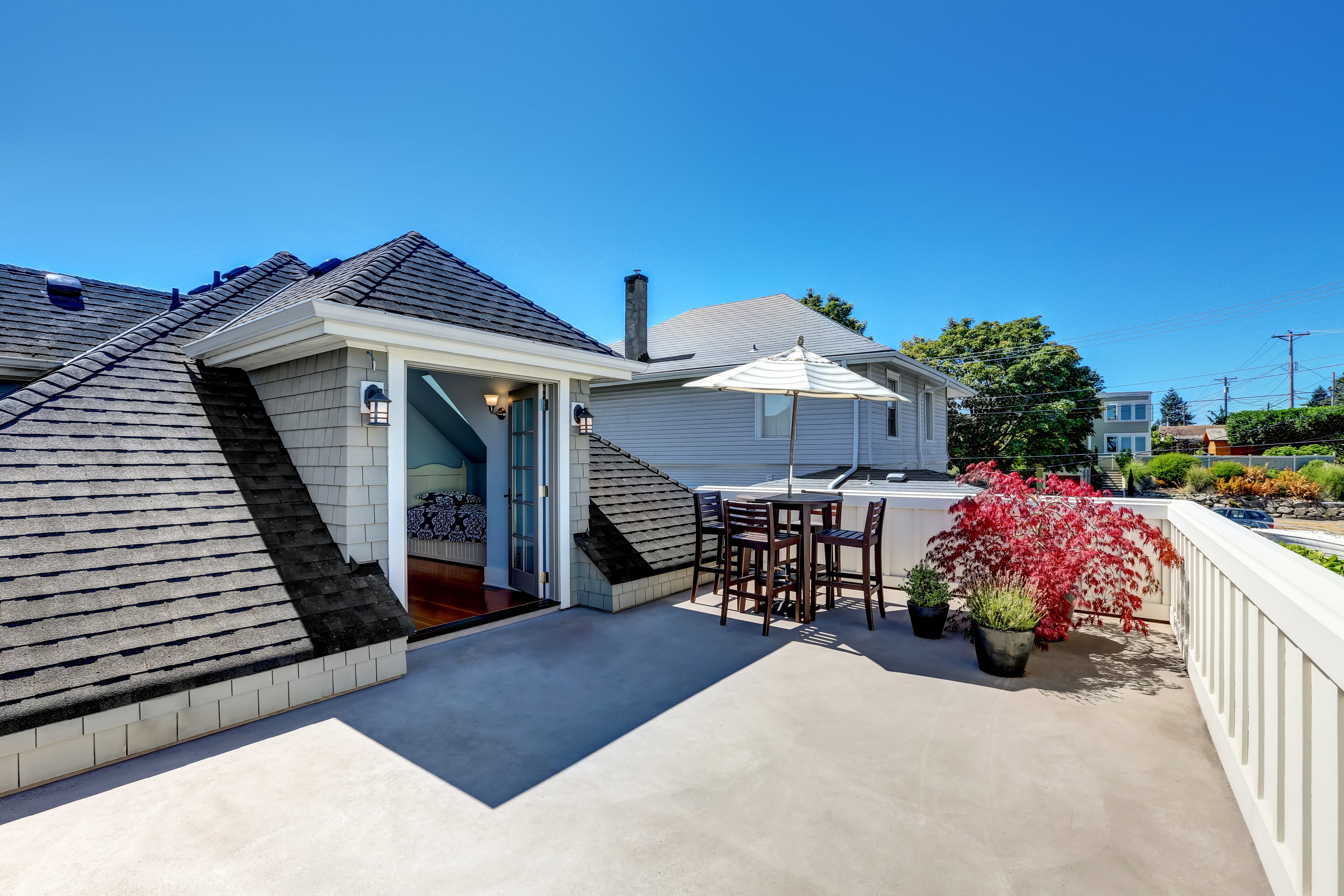 Decks and Summer go together like ice cream and chocolate sauce. If you're planning to build or renovate your deck for the best summer ever, we're here to help. Let's make summer of 2021 unforgettable with incredible deck designs, outdoor living spaces, and green innovations. Contact Mozzone Lumber to start your deck today!